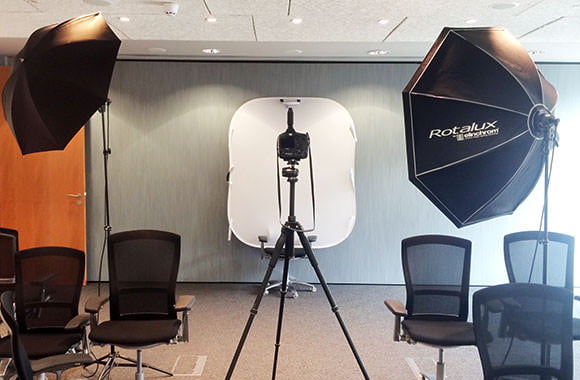 Portable Equipment 'A Studio in Your Office' for Corporate Portraits
Achieving clear, consistent staff portraits when taken in a client's office and not in a photographic studio needs specialist portable equipment.
When on location, we will bring to the shoot our own compact studio system; this allows us to get the best possible lighting. Leaving the photographer free to concentrate on achieving required poses and expressions, so they look strong across a company's team profile page.
Our favoured lighting solution is the Elinchrom Octo Softbox, which casts a large, soft and very even light across the subject. It produces results that tend to flatter and please even the most camera shy people.
Another essential piece of equipment is the Quadra Ranger battery flash – which is the perfect partner to the Softbox. From a single charge, the flash can be fired hundreds of times in a long shoot, but will remain remarkably consistent in terms of its colour and power output. It seems a small matter but it makes a major difference when displaying a large number of different portraits on the same page.
And our last piece of vital kit in the compact studio system is our humble pop up backdrop. We use a variety when clients require a neutral background, or to make it easier in postproduction to create cutout portraits when backgrounds are to be replaced after the photoshoot.

Latest posts by Piranha Photography
(see all)