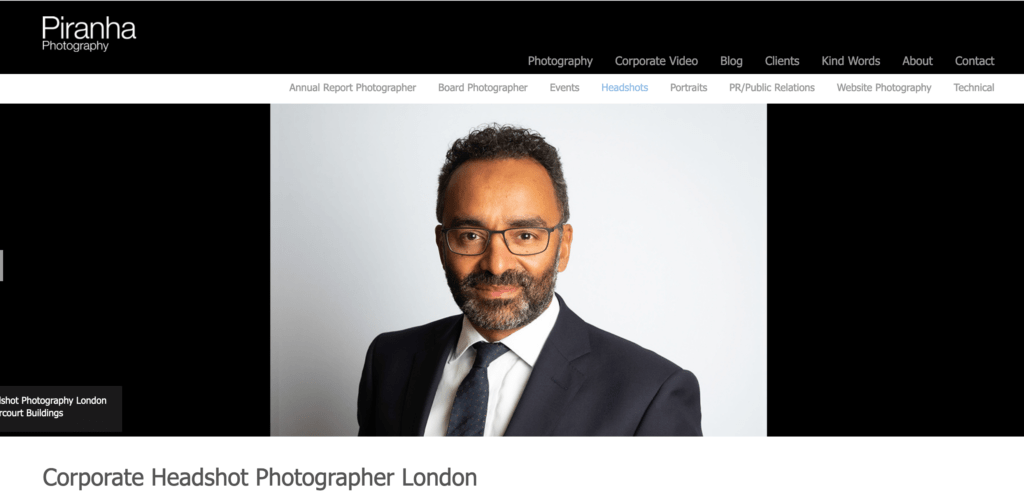 10 things to avoid on a corporate headshot photo shoot
Many years of corporate headshot photography has taught me the dos and don'ts of a corporate photo shoot and with these handy tips yours should run smoothly. Much of the success of a headshot photo shoot is down to careful planning as well as the professional photography on the day.
Don't book a small room for the photography
Avoid allowing the person booking the photo shoot to take the photographer into a small pokey room. This will provide insufficient space for the headshot photographer to set up lights and backdrop ready for the subjects to be photographed and not allow enough space for the photographer and subject to move around one another keeping socially distanced during these Covid times. Most offices should have large enough room for effective corporate headshots so make sure one has been booked for the day.
If you think that the room allocated for the day might be too small ask your contact to email over to you a few photographs of the room in advance so that the photographer can assess the décor, natural lighting, windows and furniture. You could ask to be allowed to recce the venue ahead of the photo shoot. This will save time on the day deciding on best angles, siting of lighting equipment and backdrops.
Don't forget a pop-up backdrop for the headshots
If the photographs are going to be used against a plain colour in the future, then it is important to remember to use a backdrop for the photo shoot and discuss with the company in advance what colour they might like, normally – white, grey or black.
You might want to suggest a conversation with the designer who is working on the website design as they may have a view on the colour of the backdrop.
Not having a lighting plan, particularly with corporate headshot photography for international companies
Once the backdrop colour has been selected and approved, then the colour and lighting can be discussed with other photographers so don't forget to make a note of the distances and lighting set ups. That way you can share the brief with other photographers commissioned to take headshots of directors and staff in sister offices across the world.  For international corporations, this ensures all headshot photographs have a standard, branded look and feel.
Don't forget to prepare and share a schedule for the photography on the day with the photographer and the people to be photographed
Not having an agreed schedule circulated to all the people having their corporate headshots taken and to the photographer in advance can lead to problems.  If subjects don't know when they are to be photographed they may be missed on the day or arrive flustered if they were not prepared in advance for their photo slot.
Don't forget to discuss the possibility of having a makeup artist on the day
Many corporate clients decide not to have a makeup artist on the day but a few find them very useful.  If you forget to discuss and plan a makeup artist this can lead to disappointment or a rush to find one at the last minute.  Ideally the makeup artist should have experience of corporate photo shoots and clients and definitely have the correct PPE on the day.
Don't forget to discuss how many corporate headshot photographs are required of each person.
It's important to know in advance how many photographs of each person from which they can choose after the photoshoot. This can range from businesses asking for 30 per person through to only choosing one photograph each.
A laptop may need to be set up and tethered so that the corporate headshots can be viewed immediately and selected.  This can help the marketing department as they won't need to seek approval after the photo shoot from each person photographed at a later date. So, don't forget to make a plan prior to the day of the photography.
Don't forget to discuss how the pictures will be viewed after the headshot photo shoot
Will there be a website or contact sheets to view the images?  There will need to be a viewing method agreed so that the business can choose and, then circulated to designers, marketing department as well as colleagues photographed for their approval.
Don't overlook finding out the best format that the photographs should be supplied in for the required uses
Don't forget to discuss what the ultimate uses will be for the photography.  Only once the photographer knows this they can you decide what cropping and file sizes are, as well as if the final images can be supplied as either colour or black and white depending on the design.
Don't forget to discuss Post Production like Photoshop 'cutting out' corporate headshots to replace backgrounds
Don't forget to find out and plan for post-production. For example, if 'cutting out' and replacing backgrounds will be required ensure subjects don't wear white against a white backdrop as this will make this more difficult.  Also ensure the that background photographs which will be required to replace the plain background have been taken around the offices and any necessary blur applied and approved by the client.  Avoid waiting until the day of the headshot photography to discuss this.
Avoid having files at incorrect file sizes
As corporate headshots are required for many purposes avoid files being the wrong size as this can compromise the look of the final images. For example, if an image is being used large on a website the pixel dimensions may need to be increased from a LinkedIn image's file size.
Check if pictures are for PR and will be appearing printed in newspapers as this will always require high resolution jpeg files suitable for printing from, whereas online images will be smaller.  You may ultimately need a range of file sizes – one for each specific use.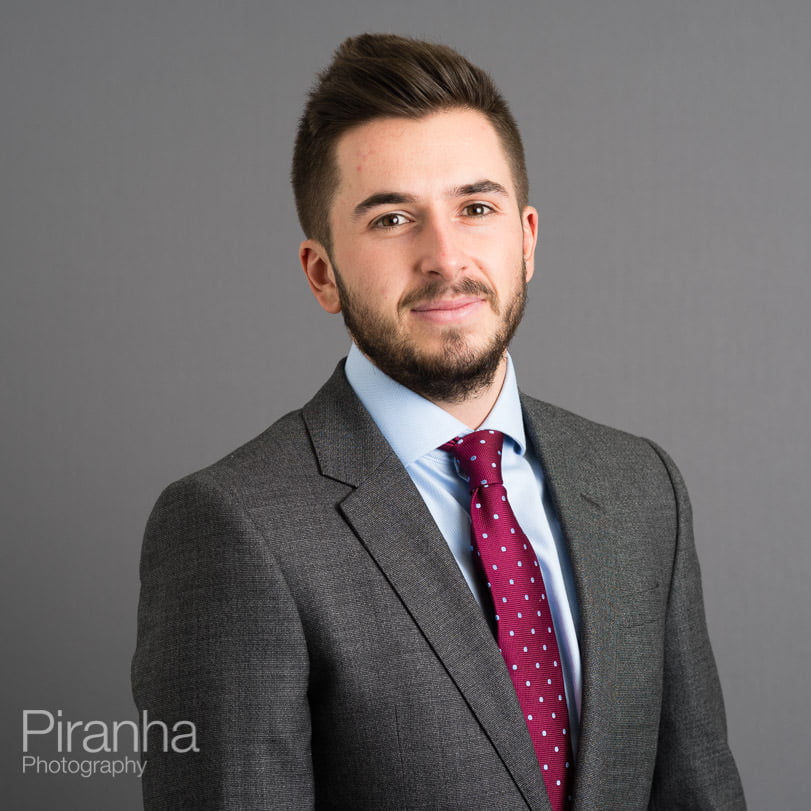 Headshots for Law Firm in London
During 2017 Piranha were very busy photographing the lawyers at Travers Smith in London.
Each person had a variety of headshots taken, and then these were presented as contact sheets so the everyone could choose the image they wanted to take forward.
Once a choice had been made Piranha 'cut out' and replaced the background so that all employees would appear on a preapproved grey background.  The final images were then cropped to a variety of specified sizes, these images were then sent to the client so that they could be used in the many different capacities they were needed e.g. for the website, as well as pitch documents and for internal company marketing materials.

Latest posts by Piranha Photography
(see all)