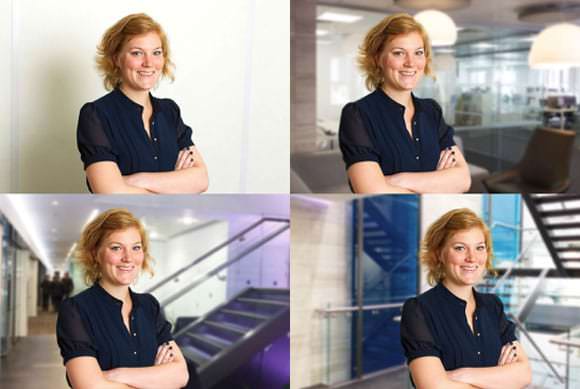 'Cheating' shots with different backgrounds
Professional business portraits with new backgrounds
Getting a manager or member of staff to pop into head office just to have their photo taken for a company annual report or other piece of marketing material often goes down like the proverbial lead balloon.
What's a better alternative? We simply photograph each person individually at their own location using a neutral background and consistent flash lighting. We then use the extraction software in Photoshop to place their portrait in one of your approved, or company branded, settings.
The effectiveness of this latest software is simply remarkable. These days, when the image is extracted from its background, every hair is preserved when transferred to the new composite photo. The final results look completely believable, and a quantum leap in terms of realism.
You can choose different backgrounds for the portrait, or keep an original plain version, if it's needed for press releases, website content, or hard copy publications.

Latest posts by Piranha Photography
(see all)