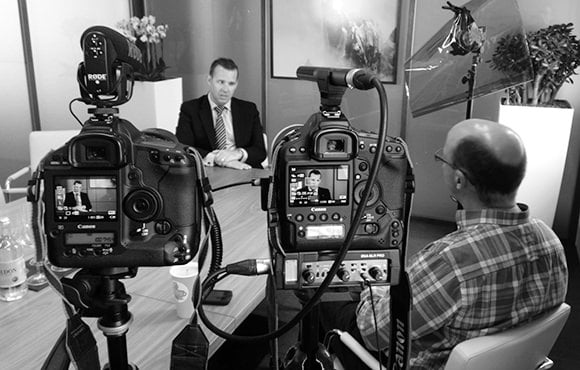 Creating a successful and relaxed corporate video requires two people
The photograph shows a typical setup by our videographer. Douglas (on the right) is art directing to ensure that the speaker feels as relaxed as possible and to help guide the person being filmed.
Having a two man team on location works very well, as one can focus totally on the technical aspects and the other ensure the subject is pronouncing words correctly, not repeating or deviating from the message, this is very important as often left to their own devices a subject can speak too quickly on a familiar subject or place an emphasis on the wrong words, or in a flat voice which wont hold the attention of the audience for very long.

Professional corporate photography and video for companies in London, the rest of the UK and Europe. Piranha are commissioned by FTSE100 companies and start-ups alike, for numerous projects, covering a wide range of work and styles. Portraits and office photography for use on websites, events coverage and PR shots for press and publications, as well as Board and location photography for annual reports. Using top of the range Leica cameras and lenses. Processing of images is fast and to an extremely high standard.

Latest posts by Piranha Photography