Covid-19 Lockdown Photography Project
During the Covid-19 Lockdown I have started a photography project – photographing teenage life at home in Oxford. At this time the children are unable to attend school and only allowed to leave the house for exercise once a day.
Lack of routine can be challenging at these times.  There will be an extended period of adjustment to this new and uncertain world pandemic. Normally the kids are untroubled by world news, but at the moment there seems to be a low level of constant anxiety as the BBC news is directly affecting the whole family for the first time.  This can manifest in different ways, perhaps losing temper or seeking parent company more often.
Everyday activities have assumed a greater significance and I have set myself the challenge of using my Leica cameras to take an interesting and different photograph each day to try and show this.  I expect the kids will remember this period for the rest of their lives.
As a professional photographer for over 20 years the challenge is to consider what to photograph and when and keep the project style consistent.  I want to capture what under normal circumstances would be a trivial subject and elevate it to this new significance.
Leica LFI International have been featuring my images on their #stayhome page and other galleries. You can see the photographs they selected here, and also the pages where they appeared  –
Photography Selected by Leica to Appear on their Gallery
UNAWARE
Photograph of Looking out of Window during Covid-19 Lockdown
Photograph of Teenager checking Phone
Taking a break from online schooling
Ed Surrounded by his hobbies
Home Schooling
Reading on the Terrace
INDOORS
Getting Ready for Home Schooling
Cutting her Dad's Hair while the Barbers Shops are Closed
Brushing Teeth a Mundane Daily Chore
Breakfast during Lockdown
KITCHEN
Helping with the Washing-Up
Lunchtime during Lockdown Photographed from Above
Cooking a Roast for Dinner
Cleaning the Oven
Edmund Hoovering the Hallway at Home
HOBBIES
Golf Putting Practice at Home
Back to Golf
Map Reading
Looking Stylish
Learning a New Instrument – The Electric Guitar
Working on the School Robot for Robotics Competition
Putting Winter Blankets Away
Piano Practice
Watering the Garden
Getting the Bikes Ready for an Outing
Teenagers Checking their Phones
Tackling a Jigsaw at Home
DAILY WALKS
Photography Project – Image of Empty Shopping Mall
Lockdown Walk around Oxford
Fast Scooting in an Empty Oxford
A Countryside Walk near Home
Taking a Breath of Fresh Air amongst the Spring Blossom
Walking over Oxford Bridge during Lockdown Walk
Walking the Neighbour's Dog
Photograph – Sitting on a Bench During Lockdown Walk
Playing the Organ in Oxford Church
Railway Bridge in Oxford
Throwing a Stick for the Dog
Photograph of Teenager during Daily Exercise Walk
Rainbow within a Rainbow
The Bridge of Sighs in Oxford during Lockdown
Choosing Asparagus
A Slideshow of all the Photographs from the 'Teenagers in Lockdown' Photography Project
Oxford Mail – Coverage of Photography Project
Great to see the Oxford Mail have picked up our story on 'Teenagers in Lockdown' and given it front page prominence and a centre double page spread no less!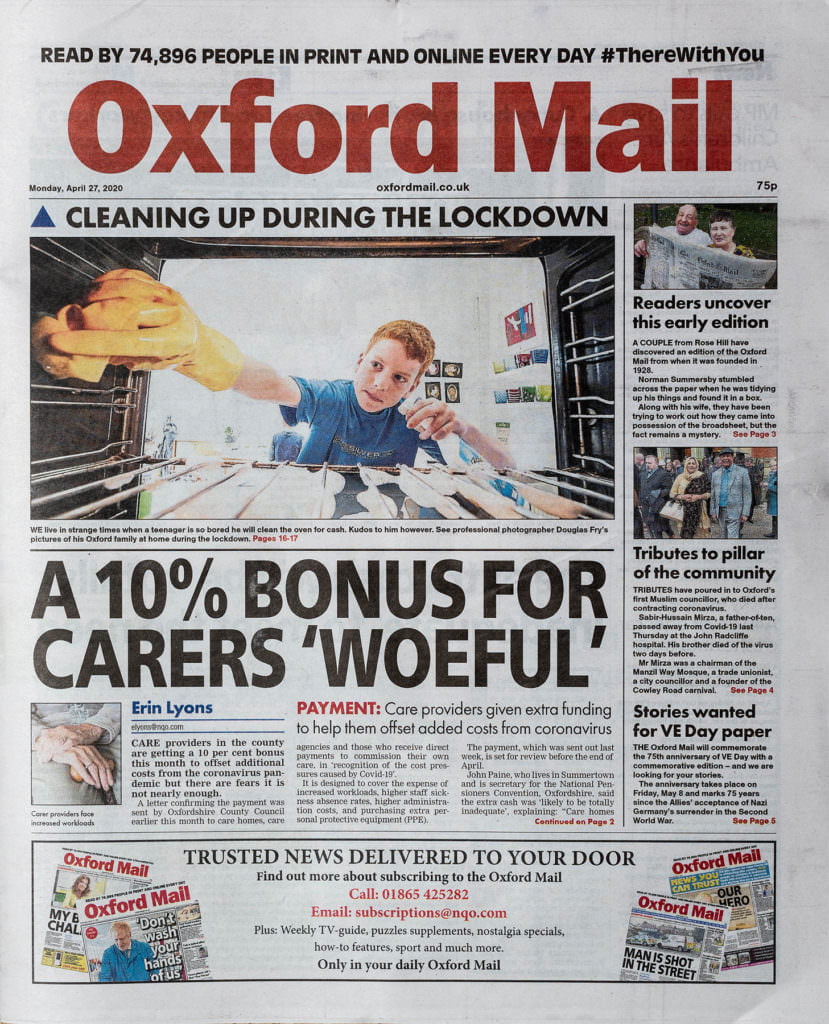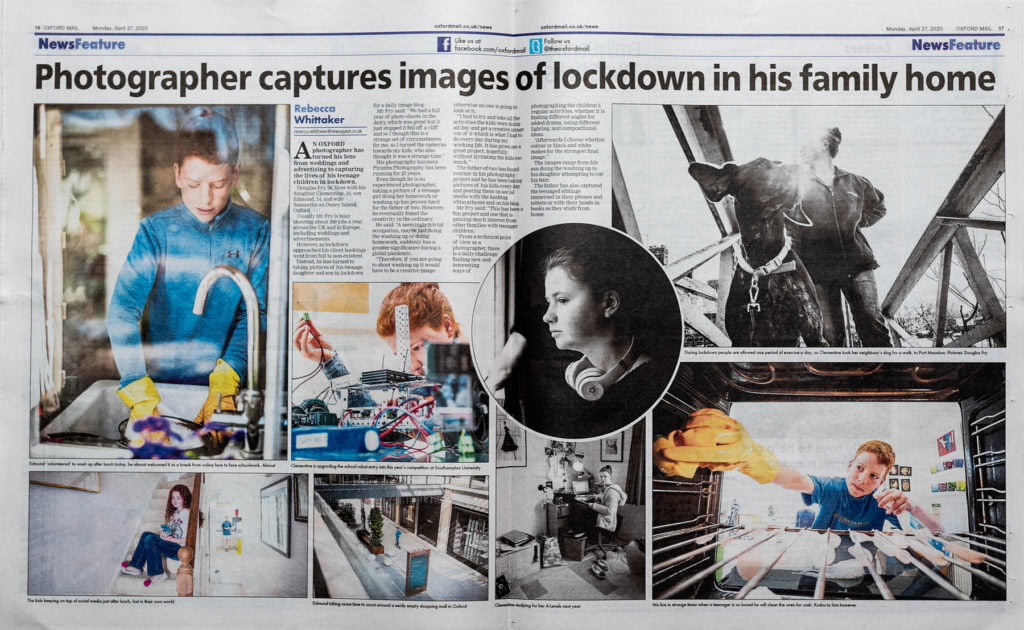 BBC – Coronavirus: Your pictures of lockdown at home
BBC – Your pictures on the theme of 'urban living'
Lockdown 2 & 3 – Chess
Photography of the children playing chess. The Netflix series The Queen's Gambit has inspired a chess craze in our house.
The games take place either with the imitation Lewis chessmen set as seen here or online on one of the many chess apps. The online apps allow the children to play with contemporaries from school or other players all over the world.  U-tube is a constant source of inspiration as commentators run through famous chess matches of Grand Masters and explain their moves.
Other games which have occupied the family are Bridge online and regular games of Scrabble after lunch.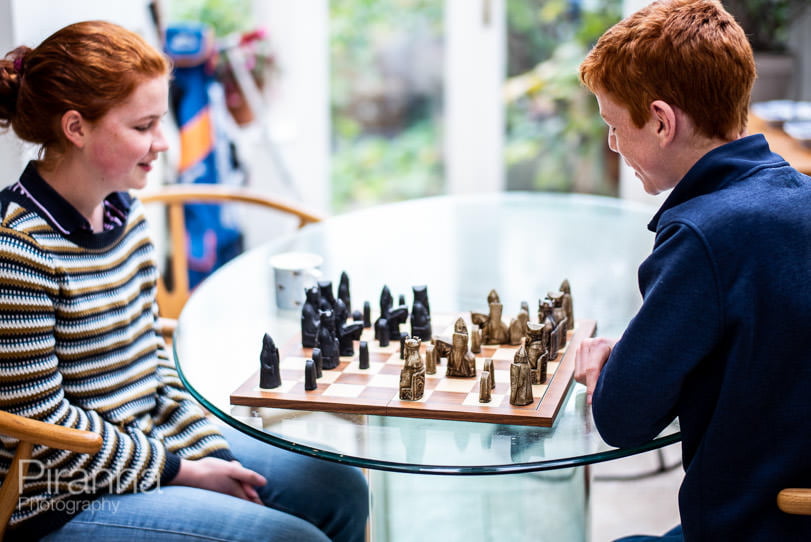 Coding
Statistically just 13% of students studying computer science, gaming and related courses in the UK are girls.  In our house the RaspberryPi has provided many hours of entertainment with the robot that was brought home from school in lockdown 1 and here to assist with improving coding, and learning more Python, in preparation for university in the autumn.
The below photograph was taken whilst Clementine was coding at one of the computers.  The final picture consists of a montage of the screen and image, shot separately.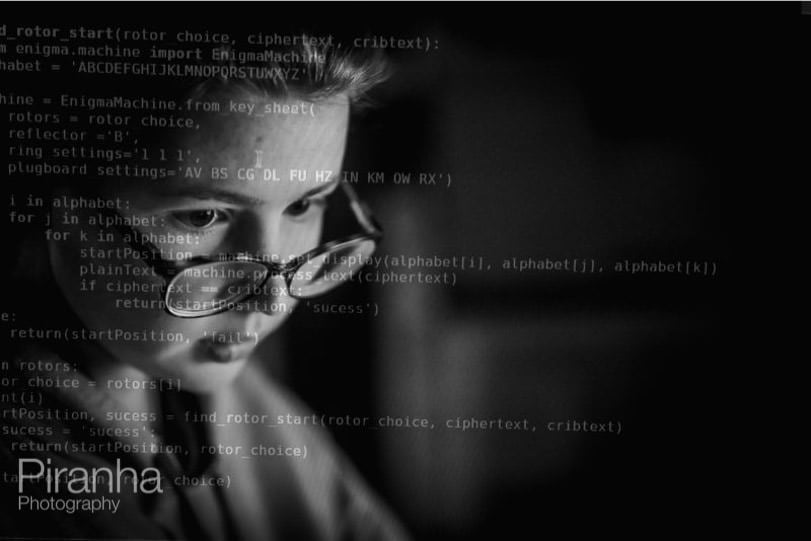 Exercise in the Snow
Finding fun things to do during a winter lockdown is not always obvious – walking in the snow was definitely a high point of January 2021.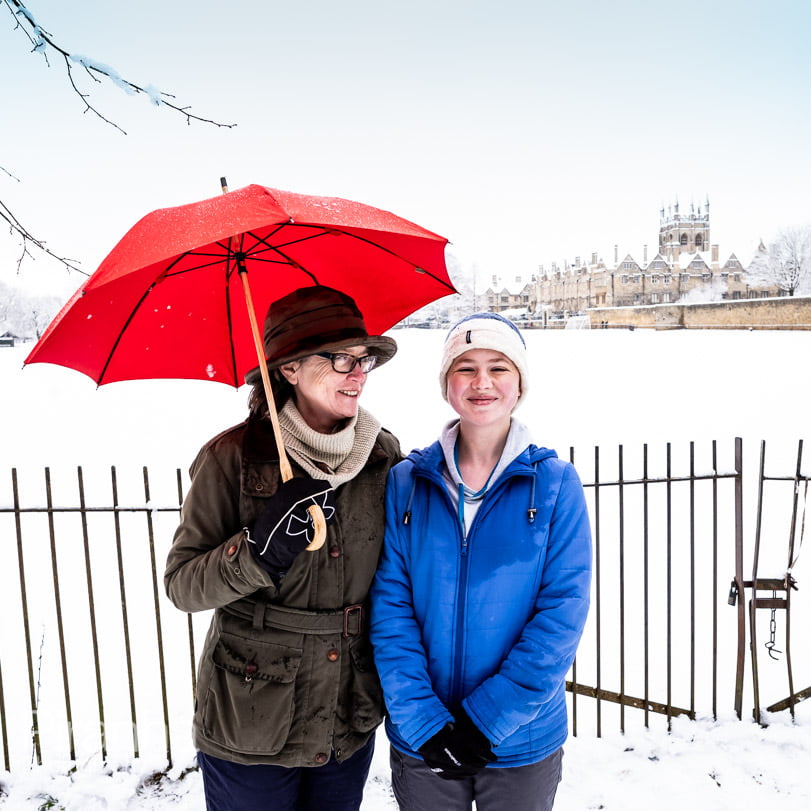 Pancake making for Shrove Tuesday
Having fun with tossing pancakes was another entertaining thing to keep the troupes happy and keep them away from screens and schoolwork for a few minutes.
The hysteria rose to new heights when one of the pancakes was thrown up so high it stuck to the kitchen ceiling.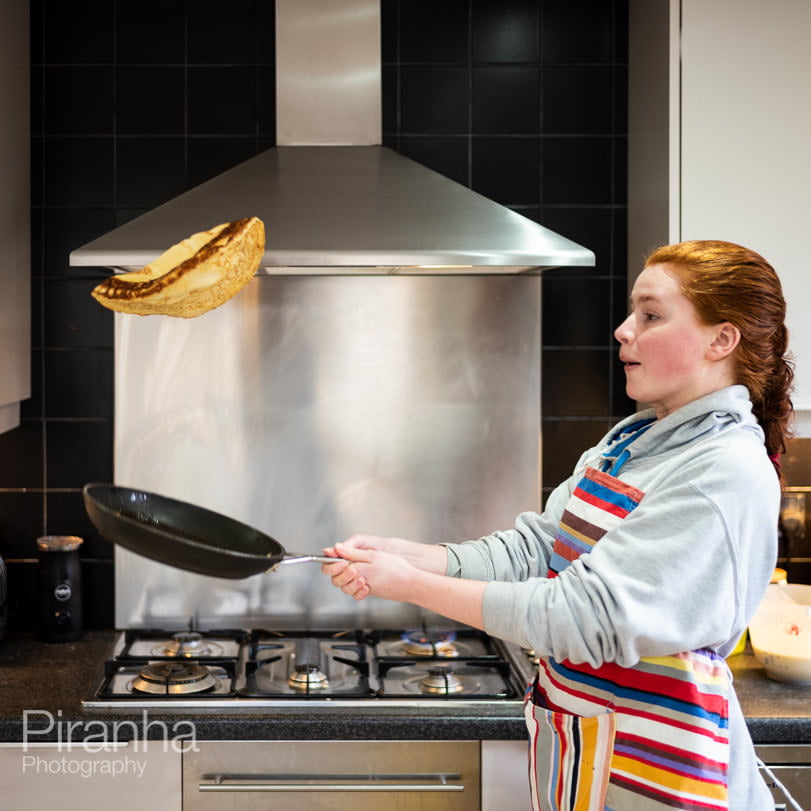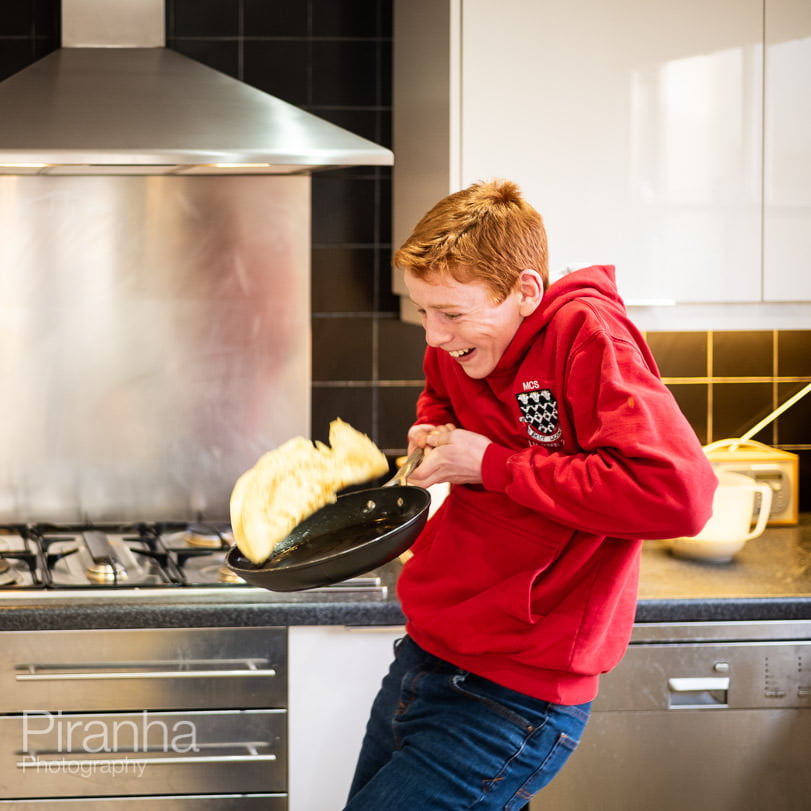 Featured Article on SLR Lounge
One of Douglas's articles giving advise getting your photography business through a recession was featured on SLR Lounge. The full piece can be found here – SLR Lounge Business Article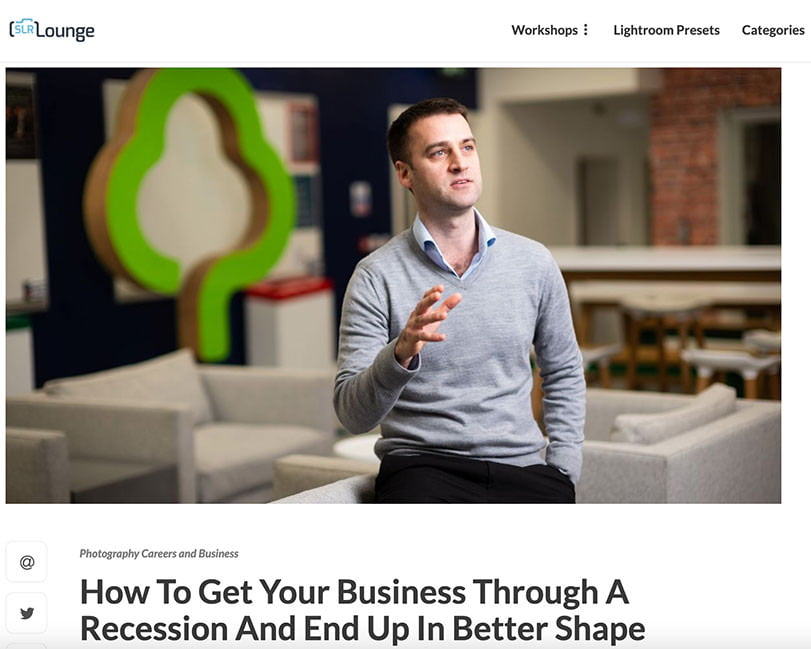 Latest posts by Piranha Photography
(see all)