Bristol Photography – A Day Visiting the Docks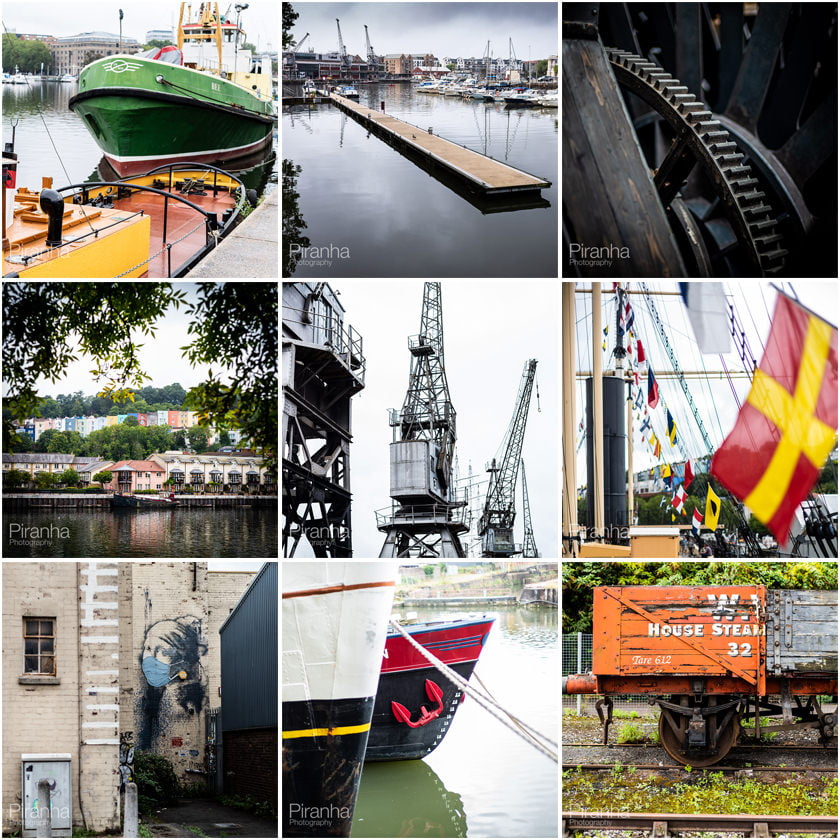 Bristol Photography – A Day Visiting the Docks
Last weekend I was visiting Bristol and so with my trusty Leica M10 I went for a walk around the historic docks.
Bristol Docks Main Attractions
The docks in Bristol are a fascinating look back through time with a mix of varied and interesting things to see and visit.  I rounded one corner and was met by a Banksy, the newly updated 'Girl with a Pierced Eardrum', the girl now has had a tasteful blue facemask added to bring her up to date with our Covid times, with the buildings fire alarm as her earing.
The three working dockside cranes provided a number of timeless graphic images one of which I have included in the montage above.  Obviously the boats are the main attraction of the docks and then I headed to the SS Great Britain.
SS Great Britain in Bristol Docks
This ship was a first of its type, the first ship in the world with a propeller rather than paddles, the first with an iron hull rather than wood. These two factors made the ship very fast and very strong. The Victorian visitors were frightened to climb aboard as they felt that such a heavy ship made of iron would sink immediately, Isambard Kingdom Brunel knew different of course.
After successfully circumventing the world 33 times, notching up more than one million nautical miles, the SS Great Britain spent many years abandoned in the Falkland Islands, an unfitting end to such an important ship. Thankfully money was found however and she was towed back to the UK, surviving all the storms en route and was then restored.  The vessel is all the more fascinating because its internal furnishings are all reproductions, therefore you can walk in and out of the crew rooms with no restriction and get a much better sense of size and scale (those beds are really narrow!), in the engine rooms and galleys.
Photography of a New City
Walking around any City with the intention of taking photographs keeps you constantly on the lookout for images, either abstract or a new take on a well-known visitor attraction, it didn't rain too much either which was a bonus.

Latest posts by Piranha Photography
(see all)
Walking around any City with the intention of taking photographs keeps you constantly on the lookout for images. Douglas, Photographer
Related Posts