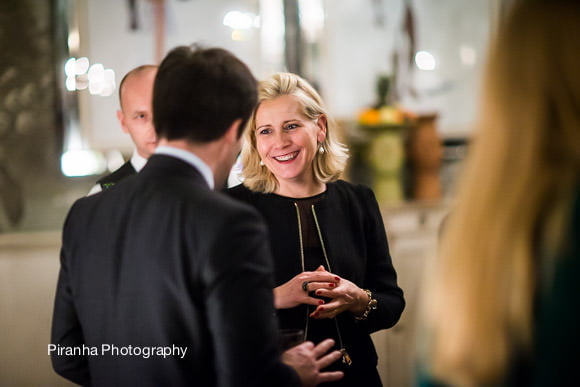 Website photography for global company
Today was busy with a full day with a Canadian Investment house starting at 8.30am, shooting for their website and pitch documents…It is typical request and important for global companies that the photographs match an existing style, so previous photographs have to sent to us to examine to make sure our lighting style is very similar, so the London images can be uploaded and fit seamlessly with the other countries pictures. In this case the brief is to avoid a serious unsmiling look as this can look 'worried' or 'concerned' and equally laughing too much will appear cavalier. Something approachable yet competent is the ideal target.
Retail company party photography in London hotel
That shoot complete lighting kit all packed up, a swift coffee and on to the next for a large retail group and the drinks reception in a West End hotel for the outgoing CEO and welcome to the new. Photographing a drinks reception requires a good sense of timing and anticipation. Getting backs of heads or unfortunate expressions isn't an option, so keeping the camera to your eye, and circling the room catching a laugh here or gesture there is important to convey the atmosphere. I don't use flash so I am rarely noticed, if at all, I make a mental note too of who the key directors are so that there can be a little emphasis on their shots over the course of the evening. Towards the end I keep a sharp eye too on the canapé's, as frequently the staff are keen to offload onto starving photographers.
The day finished at 8.30pm.
Tomorrow I set the colour balance to a more neutral tone, check for contrast, composition and exposure and make a website for the client to view by lunchtime.
Turnaround times need to be quite quick as the press often need a shot for their diary pages.

Latest posts by Piranha Photography
(see all)