February 12th, 2019 | Posted in Location / Annual Report Photography, Tips and News from Piranha

January 8th, 2019 | Posted in Tips and News from Piranha

'You cant have too many Leica lenses Santa' – I explained, he just groaned and said 'can you just get off my knee, you are waaay to heavy' – I was thrown out of the grotto.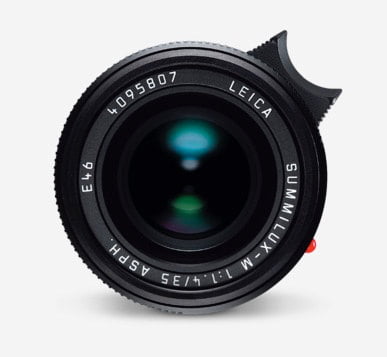 Persistence pays off however as he delivered down the chimney a new 35mm Summilux F1.4 – the all time classic reportage lens.

My trusty 35mm lens for the past 25 years has been the F2 Summicron, a design which has barely been changed and I thought was beyond improvement (great colours, sharp corner to corner at all aperture etc) but even a quick glance at the back of the camera to review the files showed the new lens in a completely different light. With its modern lens coatings and floating lens elements the images have a new level of clarity and 'pop' to them. F1.4 is fantastic to shoot in low light that extra f-stop makes all the difference and provides that very attractive shallow depth of field.

This lens is considered to be the finest 35mm lens ever made and its easy to see why.

March 2nd, 2018 | Posted in Board Photography, Corporate Portrait Photography, Tips and News from Piranha

Persona Grata with Leica
Of late, a strange thing has been happening when shooting CEOs and other board directors at corporate photo-shoots. I have suddenly become a person of interest.
I've been working for well over 20 years as a professional photographer. Normally on a CEO shoot, the best I can expect is a quick handshake, the briefest of enquiries about my train journey, and then a reluctant five minutes in front of my camera while I get on with the job. Most CEOs would much rather be running their businesses than standing in front of my camera. Or so it seemed.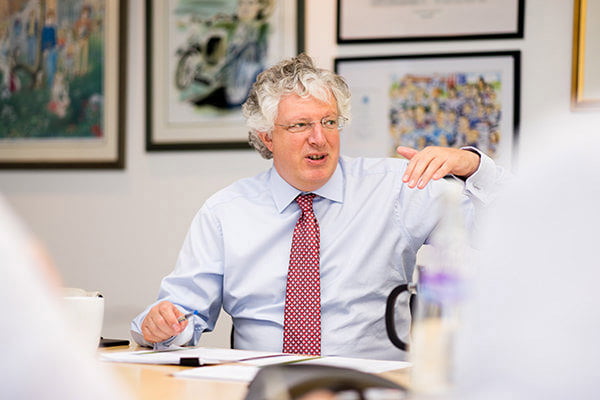 What's changed? This Christmas I bought a Leica M10 to add to my Leica SL and Leica M240 cameras. This new camera is of such iconic status it's changed the whole tone of virtually every big shoot I've done since.
Such is the Leica M10's mystique, it's like opening your wallet and flourishing a black Amex card. The camera is so well put together, so perfectly engineered, so – forgive me – beautiful in its form and function, that CEOs can't resist asking me what's it like to use. I have become persona grata with the senior executive.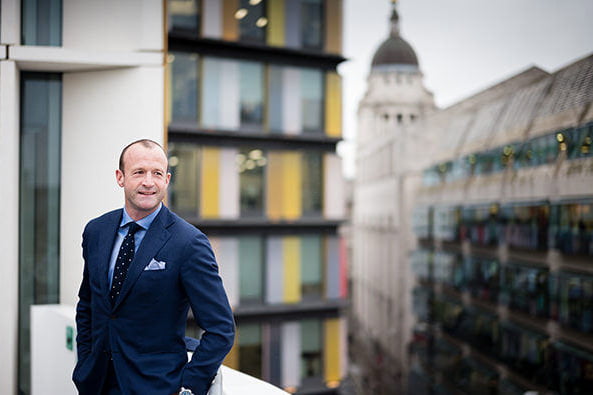 Believe this, I am now routinely spending an extra half hour at every directors' shoot to talk with them afterwards about the Leica M10. And like every professional who loves the tools of their craft and sharing their passion, this is time well spent.
What I love about the M10 is that it's been stripped back to the essentials. It's a classic case of less is more. While the camera itself has been stripped of fripperies, it generously gives back far more in terms of the depth of its images and colour accuracy.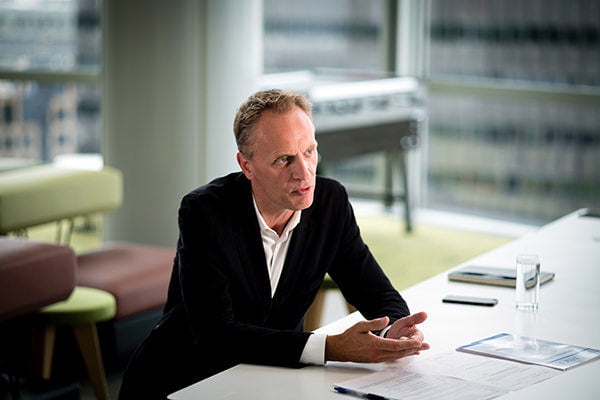 Personally, I love the manual lens focus. By not using auto, the camera forces me to slow down, think more, notice more, plan better and not waste shots. Rapid multiple shots have given way to single clicks of the shutter, and the results are all the better for it. It's as if I've gone back to using real film where every frame counts.
I've used Canons and Nikons for years and they're all fine cameras. But the Leica is in a league of its own, the professional photographer's choice, bar none, and – who'd have known? – it appears also to be the camera that would be the CEO's first choice.
We look forward to hearing from you,
Douglas
What I love about the M10 is that it's been stripped back to the essentials. It's a classic case of less is more. - Douglas, Photographer
January 25th, 2017 | Posted in Tips and News from Piranha
The incredible Leica Noctilux lens
OK this post is about an insane lens, insane in more ways than just its huge cost of nearly £8K. This is a lot of money for small amounts of glass and brass, so how can it possibly justify the hefty price tag? Perhaps its neutron star density?
Well, like the volume control in Spinal Tap, this lens goes all the way up to '11'. In photographic terms its top setting is f0.95, making it the fastest production lens yet made by man. Its light gathering abilities are better than the human eye, which means there isn't a shoot yet devised that requires available light that cannot be tackled by this lens.
It doesn't end there. This lens renders images that border on the magical, with sharpness even at its top setting as good as many other lenses at more sober apertures, yet still producing superb colours and contrast.
The holy grail of all lenses
The expense is down to a meticulous, hand-crafted manufacturing process. Each lens is repeatedly checked by technicians during production, to ensure the highest possible quality of image.
It has long been considered the holy grail of all lenses, so where does this leave my clients?
As recently demonstrated to corporate clients, I use it at for events or conferences where I need discreet but comprehensive coverage using available light only. It's also fantastic in board room situations where I can use the lens's incredible razor thin depth of field to isolate individual directors even when they are seated close together.
What this lens allows is corporate photography that is much more interesting and elegant. It offers new solutions to photoshoots, and in the hands of a pro, makes the images for websites and annual reports more attention-grabbing and able to stand out from the crowd.
Of course not every shoot requires available light or shallow depth of field. In normal shooting conditions when used with studio lighting, its colour rendering is unsurpassed. Unlike other lens makers, Leica do not rate 'sharpness' as the sole criteria for a lens's construction and design. For example, the lens is designed to give skin tones a tactile realism, in addition, colour, contrast and even the out of focus areas are extremely important to the overall way an image looks. This applies to all lenses in the Leica range; they are incredible quality and built to last a lifetime. But it's just as well given the price tags.
This lens is fantastic in board room situations, where I can use the lens's incredible razor thin depth of field to isolate individual directors even when they are seated close together. - Douglas, Photographer
August 6th, 2015 | Posted in Tips and News from Piranha

An Old(ish) Dog Learns New Tricks
As a busy corporate photographer who works nearly every day there is precious little time to swap notes with other professional photographers if I want to extend my skills.
But I always want to learn new tricks and cover new ground. Like most creative people, I never want to be stuck in a rut.
Which led me to plunging myself firmly in the deep end spending a day devoted to street photography. Street photography is the very opposite of my usual studio and location work. It requires working in a completely different way, putting me in the somewhat scary position of not being able to rigorously control lighting, poses and sets.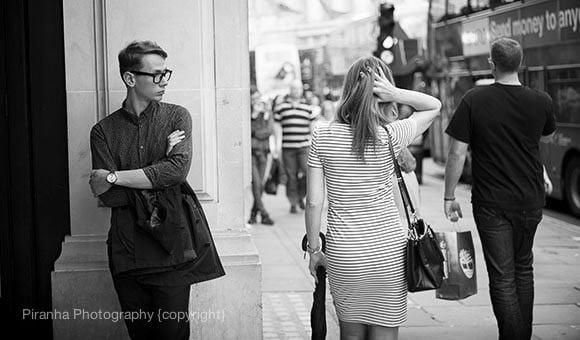 Street Photography Session
Through The Photographers Gallery in central London I signed up for a day's session all about street photography with Matt Stuart. Matt's a very well-known street photographer who has achieved great success by taking images that capture the quirky and humorous side of London life. It's down to his skill and often enormous patience that his striking pictures are published around the world.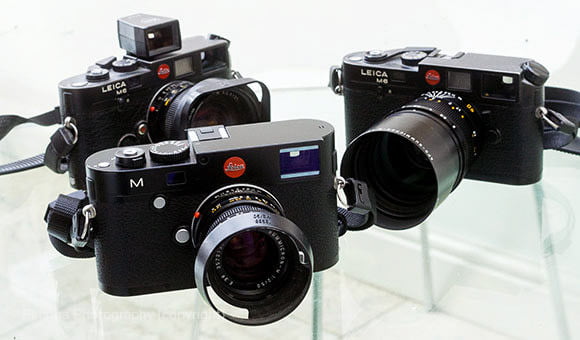 New Leica M240 Camera
I have been shooting with Leica film rangefinder cameras since the early 90s and have a good set of lenses. But now the digital Leicas have come of age, today these are my equipment of choice for an increasing number of shoots. What's so good about them? First, their build quality makes Rolex watches look flimsy! The lenses are called 'brass and glass' with justification, because that's all they are made of and they are the sharpest lenses on the market in a compact, virtually indestructible, format.
The camera body too is unusual. Its design means little of the photographer's face is covered when shooting (unlike an SLR) which is far less intimidating to the subject. Consequently, I can get much closer for better shots that will be sharper and with truer colours compared to the much larger SLR versions. The Leica M has been the camera of choice for street work for years.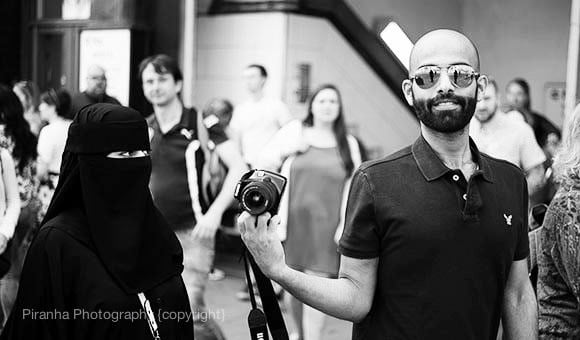 I digress, however. Under Matt's guidance, I tried my hand at two types of street photography. The first involves being in one place and waiting for something special to happen within camera frame.
The second is to walk the streets, spot a likely character and then follow them for a short while to get the best frame from a series of shots.
Sounds easy? It isn't. No one expects a stranger to take their picture when walking down Oxford Street. It takes a bit of guts to snap people you don't know from close range. The best way is to shoot quickly, smile and move on.
Once I found my mojo, I could start taking pictures more spontaneously, producing, dare I say it, results that were fresh and eye catching.
I realised the trick is to never put your camera down, or away from your eye, because it requires an enormous act of will to raise it again and continue shooting under such circumstances.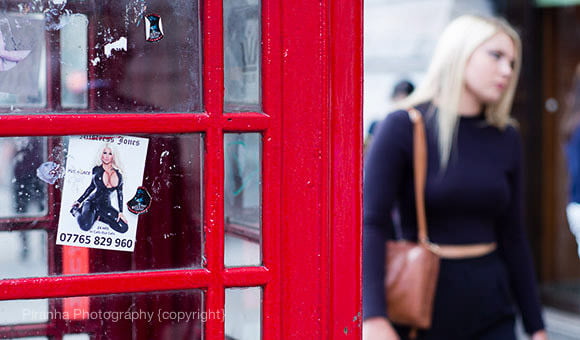 After shooting in the Oxford Street area for a couple of hours, we had to choose which images for Matt to review and critique. With lots of other professional photographers also learning street photography it was great to hear everyone's feedback and to meet new people, and I'd happily repeat the session because I am sure every time will present new challenges.
Douglas is an absolute delight to work with. Having seen many portraits he has taken, they all seem to capture the spirit of the individual whilst maintaining an element of allure and glamour. I would definitely recommend him - highly in fact. - Client at Corporate Communications Agency, August 2015
March 16th, 2015 | Posted in Tips and News from Piranha


New Sony Camera – the A7II Mirrorless SLR
Times change, and technologies improve at an exponential rate, the latest example of this in the photographic world is the Sony A7II mirrorless SLR. Sporting the latest 24megapixel sensor and 5 axis stabilisation on the new Sony/Zeiss lenses.  There is great news too if, like me, you have a line up of expensive but older Leica M lenses, 3 axis stabilisation on ANY lens..Which means crisper, sharper images, with great colour depth at virtually any shutter speed.
We took delivery here of this new slimline camera, an adapter for the Leica M lenses, put on the Leica 35mm F2 Summicron (one of the sharpest lenses ever made) tossed the manual to one side of course and started shooting. Well I was very pleasantly surprised to see how easy it was to focus with an older lens with this new hi-tech camera, the clarity and detail is phenomenal – the images have a 3D quality about them, such is the legendary nature of Leica glass.
The new Sony cameras have been a very impressive addition to our collection, they are small, discreet and very high quality, especially when coupled with the famous Leica lenses. - Douglas, Photographer
July 4th, 2019 | Posted in Outdoor Portraits, Corporate Portrait Photography, Tips and News from Piranha

Shooting in the great outdoors
Head and shoulders portraits of a senior executive shot against a plain grey or white background are always going to be essential for corporate press and marketing materials.
But don't forget that for other occasions when your business needs to stand out, these standard portraits might not be powerful enough to grab your audience's attention or make them think.
Contrast this with outdoor location shots, which when taken professionally, are naturally thought provoking while also providing greater context about the business.
As fashions change, we've found clients want their corporate imagery to be fresh and exciting and not me-too and tired. All of which is helping me persuade more and more clients to spare me around 10 minutes of their time to be photographed in the great outdoors.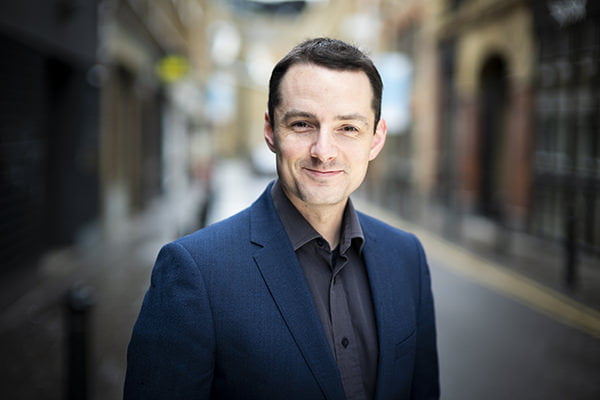 Take it as read I'll have scouted suitable locations near to their workplace before the shoot. Then armed with little more than a large reflector and Leica's fast lenses, I can guarantee a set of portraits in under 10 minutes that are the opposite of business as usual.
If you look at the examples below from recent shoots, you'll see they look more interesting than a standard corporate headshot.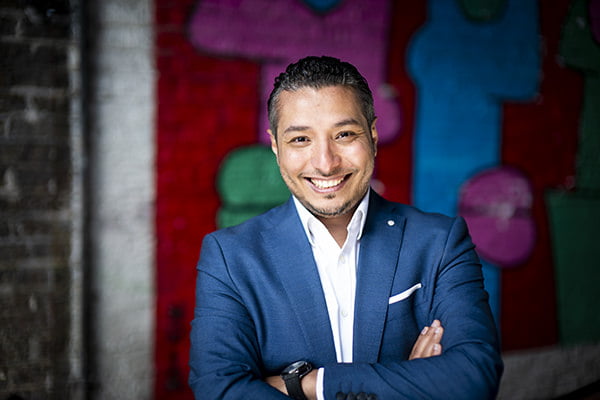 Outdoor location shots, when taken professionally, are naturally thought provoking while also providing greater context about the business. - Douglas, Photographer
April 1st, 2019 | Posted in Tips and News from Piranha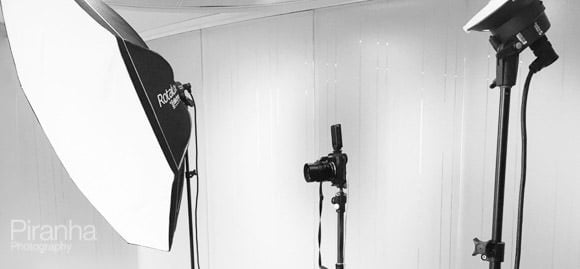 If using natural light was the answer for a professional photographer, you wouldn't find me lugging around 30 kilogrammes of lighting equipment on the London Underground travelling to photo-shoots.
As a trick of the trade, the truth is that lighting makes the biggest difference between an amateur's photographs versus a professional's.  The difference is far greater than the make of camera body or lens. If I was asked to put a number on it, I'd say great pictures are about 80% the result of a professional lighting rig, and the rest is down to the camera, lens and the photographer's experience and talent.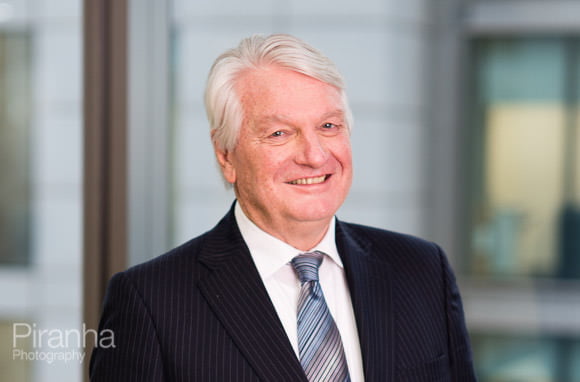 Don't get me wrong. Good cameras and lenses are important. If you've read previous Bytes, you'll know my love of Leica equipment borders on the obsessional. But without my portable (ahem!) Elinchrom lighting rig, the images would inevitably disappoint clients. The light it produces wraps completely around the subject's face, creating softer, kinder images. In some ways the effects are counter-intuitive. You'd think that extra light would reveal more of a subject's flaws in skin tone. But it has the opposite effect. The light actually conceals and flatters, and that's why it's worth the half hour it takes me set up my lights ahead of a shoot.
More than this, lights create a sense of occasion, a bit of a wow factor if you will. At a corporate photo-shoot, the CEO or director, on seeing the lighting set up, suddenly gives the session their full focus and attention.  Just as importantly, it also leads to an efficient use of their time, because I know I can have the shots I need in a few minutes rather than clicking away at the shutter for much longer in the hope of the right shot.
Professional lighting also produces repeatable images that not only look super soft, but also have consistent colour tones in every shot. Natural light, in contrast, will vary as the sun goes in and out and the contrast will change from very low on cloudy days to far too high on a sunny day. My lighting rig ensures a soft envelope of light every single time, no matter what time of day or what sort of room is used for shooting. And the reason this matters is that we end up with pleasingly uniform images that are ideal for company websites, marketing literature or social media avatars.
And there are benefits for me too, because lugging so much lighting kit back and forth means I am spared having to join a gym to stay fit.
...the CEO or director, on seeing the lighting set up, suddenly gives the session their full focus and attention - Douglas, Photographer
March 12th, 2019 | Posted in Corporate Portrait Photography, Websites

One of our regular client's required a few new portraits to add to their existing set.  The ones below feature on their website's Senior Management page –